Posted on January 7, 2020
Most people going through a divorce want it to be completed as soon as possible. One of the most common questions we get about divorce is, "how long does it take?" Perhaps not so surprising, the answer is: it depends. But below we'll walk you through the steps in the divorce process and give you a better idea of timing.
The short answer:
The longer answer:
The more complete answer is that the time it takes to complete a divorce depends mainly on whether the divorce is uncontested (spouses agree on the details of the divorce), contested (spouses do not agree on all the details of the divorce but are later able to come to an agreement through mediation), or contested with trial (both spouses are unable to agree on details of the divorce before or during mediation.)
Whether the divorce can be completed with or without mediation and with or without trial are the most important factors to determine the length of a divorce. Other factors that come into play including a sense of urgency or a desire to delay the process on behalf of a spouse (sometimes strategically), the county legal system, as well as the availability of the attorneys, mediators, and judge involved in the case.
There are several steps in the divorce process that must be completed in the state of Florida. Below is a grid that will help you understand rough estimates around the length of time required for each step in the divorce process.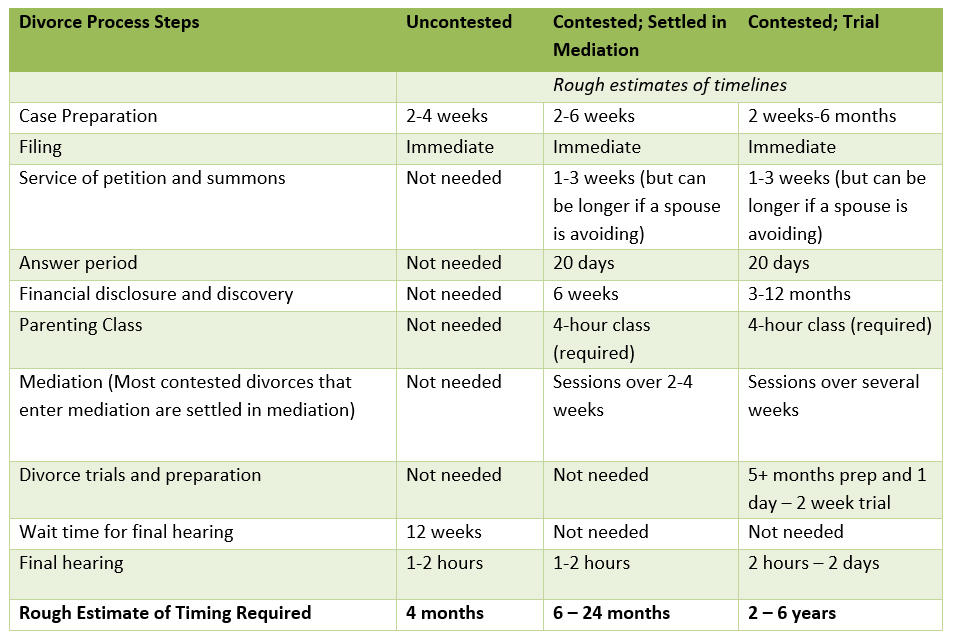 The information above is designed to give you a general understanding of timing. But keep in mind that each divorce case is unique: some involve child custody and parenting issues, others involve spouses who are business partners, and still others include property or alimony issues. These and other unforeseen obstacles may increase the timelines for a divorce case.
If you have questions about divorce, child custody, or mediation services, our experienced attorneys can help answer your questions. Our compassionate attorneys provide private complementary consultations. For more information, contact us at Troy Legal, (561) 910-4570.
Will this article be helpful to a friend or family member? If so, take a minute to forward it.
Troy Legal, P.A. was founded in 2009 and serves clients throughout South Florida. Troy Legal, P.A., specializes in Marital and Family Law, providing reputable legal services for prenuptial and co-habitation agreements, paternity cases, adoption matters, alimony and child support, time sharing and parenting plans, drafting of qualified domestic relations orders (qdros), mediation services, equitable distributions, collaborative law, post-judgement modification and enforcement, domestic violence cases, and dissolution of marriage or divorce. Troy Legal, P.is dedicated to serving clients through compassionate and aggressive representation, while upholding the highest degree of ethical standards.